Welcome Professionals…
…appearance and style are of high importance  for the top management consultant. Since our services are generally hard to measure by objective and accessible performance indicators, the law of analogy applies. Our clients will build simple analogies. A sloppy outfit is linked to a sloppy analysis. A clumsy dress style is linked to a confused working style. We do not want this to get into our way.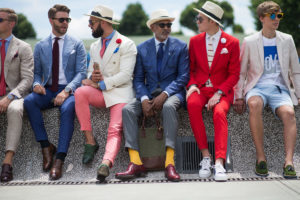 There is not that one wardrobe that works for all consultants. In fact, dressing patterns vary heavily by region and by client industry and even company size. Whether you work in Milano or Detroit, whether you work in banking or fast moving consumer goods, the proper style will be relative to the one of your clients. In relation to the client, the top management consultant will always dress:
a bit more formal
a bit more smart
a bit more classic / conservative
Furthermore, our wardrobe should be fitting well, be in a good state and good shape, and project rather humble understatement than pretentious status symbols.
While these principles apply equally to men it women, it is usually the male species that is looking for a bit more practical advice and guidance. Here are some links to experts for you.
Aaron Marino is the pioneer of men style blogs and one of the most successful contributors in this areas. His videos cover everything from casual and formal clothing across fitness and grooming to even communication. Blessed with a good sense of humour, he is also quite entertaining. (http://www.iamalpham.com)
Sven Raphael Schneider from the Gentleman's Gazette promotes a very elegant style that is in most cases much too dapper and dandy for any top management consultant. However, he has the best collection of background information on how to judge quality of garments, how to bind a proper necktie with a dimple, how to even tie your shoelaces and much more. Some fashion advice is clearly over the top, but some is quite practical. (http://www.gentlemansgazette.com)
A good entertaining and inspiring blog can also be found by Brian Sacawa, a professional musician and former elite-level bicycle racer. His page "he spoke style" is a playful explanation of core principles in menswear. (http://hespokestyle.com)
Of course, there are many more addresses for tips and tricks. Hope you like that one and curious to learn your additions to this topic.
Malte
Thursday Night Flight is brought to you by Malte Müller Professionals. Sharing best practices for top management consultants on topics like communication, client handling, problem solving, appearance, and fitness. Check out www.mm-professionals.com for more material and free resources!