Welcome Professionals…
…to another piece of Thursday Night Flight. Today, I want to make a fashion statement. As top management consultants, we are working with our brains. This is our most important asset. That is why we wear helmets while riding our bike. 😉
This is the same reason why we should refrain from wearing coloured socks. I do not want to dig deep into fashion here. Serious business men* should stay away from current fashion trends anyways. The point I want to make is another one.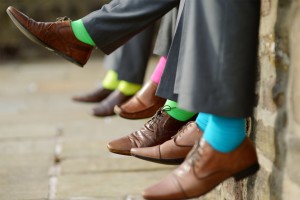 We want to draw attention to our head and to our face. We definitely do not want to draw attention to our feet.
Some smart-arse will probably recommend to grow a beard instead. Well, whatever!
Happy Thursday!
Malte
*For all business women: Please get professional advise elsewhere in order to find out if it is appropriate to wear coloured tights. 😉
Thursday Night Flight is brought to you by Malte Müller Professionals. Sharing best practices for top management consultants on topics like communication, client handling, problem solving, appearance, and fitness. Check out www.mm-professionals.com for more material and free resources!